CHILLI's BLOG: The VIDEO of me telling my DAD that he's going to become a GRANDFATHER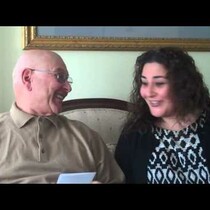 Posted June 14th, 2013 @ 6:45am
Don and I kept our pregnancy a secret from our family and friends during the entire first trimester. When we made it past 12-weeks, we plotted ways to tell our Dads (both our Moms passed away almost 4-yrs ago).
My dad has always LOVED to travel. After my Mother died, my dad started a quest to see as much as the world as possible. He felt like he had nothing left to lose. He made a list of places/countries he wanted to visit, and started checking them off one by one. In the last three years he's traveled SOLO to Greece (where he scuba dived for the first time), Costa Rica (where he did whitewater rafting, horsebackriding and ziplining thru the jungle), Machu Picchu, the Galapagos Islands...and a safari in Africa.
My 71-year old Dad is about to leave for his next adventure. He'll be going on a cruise out of St. Petersburg, Russia next month. I'm so proud of his outlook on life. This was a man who hated DINING alone...and now he's TRAVELING the world BY HIMSELF (thru a tour group...but he doesn't know anybody).
A couple of months ago, I told my dad I wanted to videotape an interview with him for one of my blogs. I wanted him to talk about all the adventures he's been on...and what he has planned next. During the interview, I told him I had an idea for his NEXT ADVENTURE. I had made a card with a photo of our baby's first SONOGRAM. It read: "Congratulations! Your next ADVENTURE begins soon BABOUG (Armenian word for "Grandpa")".
Here's how he reacted...
Don and I found out the SEX of our BABY this week, but we haven't told our Dads yet. We'll be breaking the news to them on Father's Day. I can't wait to tell them! I will tell YOU guys on Tuesday...so come back and check our blog page for the news. :)