WATCH THIS! Kid falls asleep while eating...on an airplane. LOL!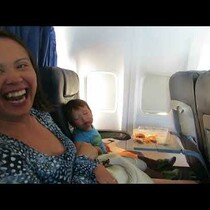 Posted April 30th, 2013 @ 6:24pm
I try to have a little lunch before my afternoon nap when I get home from the radio station. Sometimes I'm SO TIRED, I can barely keep my eyes open. I haven't fallen asleep with food in my mouth...yet. However the viral video below made me LAUGH so hard. It really gets good at the 1:34 mark. I can totally see this happening to ME one day! - Chilli Amar
Where is the most unusual place you feel asleep from exhaustion? Leave your comments below!