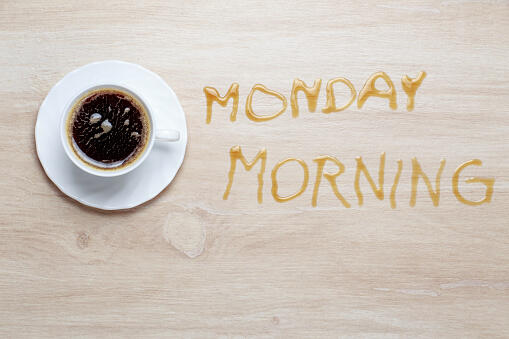 @gettyimages
It's MONDAY... MONDAY... WE ALL GOIN' TO WORK ON MONNNNDAY!
Welcome to a new week, and thanks for letting us be a part of your world as you get life started today. I'm aware you've got choices... and so... thank you... for choosing to #ReadThisFIRST!
Today is AWKWARD MOMENTS DAY. Embarrassing moments do happen.... and today we celebrate 'em!
When was the last most embarrassing moment I remember? One which really caused me the anxiety feels? Well, it was this one time when I was staying at the Beverly Hilton. I was with a woman I was dating at the time, and we were returning from some sort of dinner or event in LA that night... and I was wearing a suit. Now, in full disclosure, I was about 120 lbs heavier at the time, and the pants were tight. Not so tight I couldn't wear 'em, but I'd gained weight since I got those pants, I guess, and they were tight in the thighs...
The woman I was with got out of the cab we were riding in got out first... and then, I got out... and.... RIP!
The butt-seam of my pants split, and ripped at a 45 degree angle to the seam on the inner thigh. As I got out of the cab.
Guess who did the walk of shame across the lobby of the Beverly Hilton... to go back to the room... to change... with a giant hole in my buttocks hanging out.
Me.
Thank GOD I was wearing boxers.
So... what about you? Remind me to tell you about the walk of shame across the lobby in my boxers in a massive hotel in a major US CITY once upon a time... That story is good, too...
Now... on to the copy-and-paste roundup...
Separate honeymoons? The latest trend in wedding planning is apparently newlyweds taking separate honeymoons. They're being dubbed "solomoons" or "unimoons," and, of course the biggest question is ... WHY? Seems conflicting schedules and demanding jobs, as well as more independent outlook on the institution of marriage and, in some cases, simply being unable to agree on a honeymoon destination has more and more newly married couples choosing to spend that first trip as husband and wife – apart! (NY Times)
What would you do if you had extra on your hands? According to the results of survey of employees in the U.S., Australia, Canada, France, Germany, India, Mexico, and the UK, here are the Top 5 things people would do if they had more free time:
Spend time with family -- 44%
Travel -- 43%
Exercise -- 33%
Spend time with friends -- 30%
Pursue hobbies -- 29%
More survey findings … 27% of respondents said they would sleep more if they had extra time. Interestingly, workers in the U.S. said they wanted more sleep (33%) than any other country surveyed. (The Ladders)
Bring on the 'shrooms! A new study has found that eating two servings of mushrooms a week may reduce the risk of cognitive decline as you age. (NUS News)
Sober dating made easier… Loosid is a dating app for nondrinkers that helps you meet other sober singles. It even provides alcohol-free ideas for sober dating. (Ask Men)
Is the wallet dying? Apple Pay and Google Pay and the like are pretty much everywhere these days. And digital IDs are becoming more common. So do you need to have anything other than your phone when you're out? Maybe not. A new survey found 45 percent of respondents think wallets will be obsolete in five years or less. (USA Today)
MARCH MADNESS: BRING ON THE BRACKETS
This year's March Madness brackets were set yesterday – and the play-in games will be played tomorrow.
Have you already figured out a way to watch the first weekend of action?
It used to be tough, of course … Not all the games were available. And, certainly not on your phone …
But now, you can get whatever you want, in real-time.
So, will you take the time to watch it all? And, will you have to sneak away from your real-life duties to pull it off?
MARATHON RUNNER BREWS SPECIAL BEER FOR ATHLETES
Marathon runner Shelley Smith is the manager of research and product development at The Boston Beer Company.
She combined her two passions – running and beer – to create the 26.2 Brew, a beer especially made for athletes.
It clocks in at four percent alcohol content and is brewed with Himalayan sea salt to replace electrolytes after workouts. It also has just nine grams of carbs and 120 calories, which means you should be able to celebrate your hard work without blowing up your diet. (Mandatory)
MARIJUANA LEADS TO BETTER SEX
A new study has found that smoking marijuana leads to better sex – at least with women.
Researchers found that women who smoked before hopping in bed were 69 percent more likely to report "more pleasurable" sexual experiences and a 61 percent increase in sex drive. (IFLScience)
GOT A WORK SPOUSE? You may want to get one... they can make you better! Check this out...
The meaning of "work wife" has changed for the better over the past few years. It used to just be the word given to your man's closest female friend in the office – which obviously implies some infidelity. But now, women everywhere are using "work wife" to describe their day one in the office. It's the person we dish to about other coworkers, but it's also the person who we wouldn't survive the workday without.
But there's actually evidence to prove that having a work spouse can help you be more successful in the office. Whether it's joining forces to get a job done or having someone in your corner when things get tough at work, your work spouse is the one that has you keeping your job and showing up every morning at 9 am. It's the classic Tina Fey and Amy Poehler scenario – I mean, look at them!
And even though your first few months of a new job are spent trying to make the best impression and always being your successful, professional self at work, having a coworker who knows who you are at the end of the day is really helpful to being productive in the office. Not to mention the built in lunch date and happy hour partner you have to work with daily.
Source:Huffington Post
NEW FRIEND TREND: The LONG DISTANCE FRIENDSHIP LAMP...
If you have no idea what to get your friend for any gift-giving holiday or their birthday, you could ditch the idea of trying to be thoughtful, and get something they can at least Instagram instead. Luckily, there's a trendy gift idea that's both thoughtful AND Instagrammable. It's called the Long-Distance Friendship Lamp by Uncommon Goods, and they sell for around $95 (or in a set of two for $190).
The idea is that each lamp is connected to a partner lamp with Wi-Fi. Doesn't matter how far away you are from your BFF – the second you give the lamp a gentle touch, it'll cause you and your OG's lamp to both glow at the same time. It's just a little gesture that will let your friend know you're thinking about them.
The lamp can glow in the color of your choosing so you and your friend can still hone in on your personal styles. You can even link the lamp to multiple other lamps and set a different color for each person whose mind you may cross. You'll know if your lamp is glowing because of your BFF, your grandma, or your long distance bae.
Source:PopSugar
Refresh this space for more... soon!